---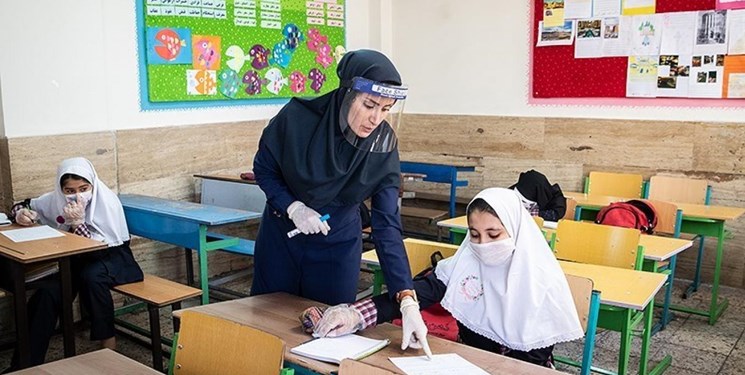 Reopening schools gradually and slowly based on 3 groups
Last year, the reopening of schools was general and it was announced that everyone would come to school, but this year, grouping was planned for the reopening.
The first group: This group is divided into two groups. First category: All sparsely populated schools in nomadic and rural areas (with a density of classes of 5 or less) due to the fact that they are often limited in access to effective distance learning strategies and are able to comply with the provisions of protocols on social distance "without grouping" Priority is given to initiating face-to-face activities in each area and district.
The second category: all schools in nomadic areas, villages with a population of less than 4 people, who according to the provisions of the instructions can, if the need to reduce the density of the class, students can divide each class into two groups and in strict compliance with the provisions of the instructions, Each group receives their training in person 4 days a week.
The second group: In this group, there are schools with a student population of up to 3 people, and from the third of October, they will follow their educational activities in the student education network (Shad) as the main educational program.
After reviewing and completing the self-assessment form, these schools, if they have the necessary conditions for face-to-face activity, should organize the classes and apply the grouping expected in this instruction, and after determining the teaching method (face-to-face / absentee and Or a combination of these two methods), determining the number of days of attendance (1 or 2 days according to the number of groups in each class) and determining the form of attendance of each group of students (even and odd / weekly rotation, etc.), appropriate to The conditions of the students and in accordance with the decision of the school council and announcing their opinion to the Mehr project headquarters of the district or district, and after approval and announcement of the opinion of the district education departments, to start face-to-face education; The beginning of the activity of this group of schools will preferably be from the first week of November.
The third group: includes schools with a student population of more than three. From the second half of November, the educational districts can, in full compliance with the provisions of the instructions and considering the conditions and requirements of the educational district, consider the reopening of this group of schools in the third priority, provided that the school has the conditions for reopening.
Source: Fars News Agency
---